Costco appears to have recently started selling subscriptions to Apple services at discounted yearly prices. On the Costco website, Costco members can purchase a subscription to Apple TV+, Apple News+, or Apple Arcade at a lower cost.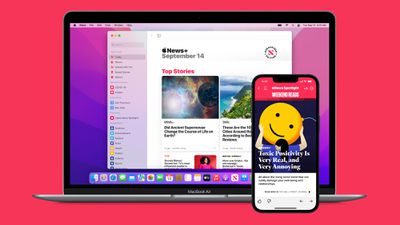 ‌Apple Arcade‌ is available for $44.99, down from the standard yearly price of $49.99, and ‌Apple TV+‌ is also available at the same $44.99 price point. ‌Apple News‌+ is available for $89.99 for a year of service.
Apple does not offer a yearly subscription to ‌Apple News‌+, selling it for $9.99 per month for a total yearly price of $120, so the $90 price point from Costco is a notable discount.


Costco appears to have just recently started offering Apple subscriptions for purchase, and there is a banner on the main Costco website that reads "Now at Costco. ‌Apple TV+‌, ‌Apple News‌+, and ‌Apple Arcade‌. Get 1 year subscriptions at incredible values ."
(Thanks, Jordan!)
Related Stories
Apple Arcade Gaining 'Alto's Adventure: The Spirit of the Mountain' Game
Endless snowboarding game "Alto's Adventure" is set to expand to Apple Arcade this month, with Apple launching "Alto's Adventure: The Spirit of the Mountain." The Apple Arcade exclusive title is a remastered version of the original "Alto's Adventure," but with an all-new exclusive character that features unique attributes and special abilities, plus more than 15 new goals to complete. Tea…
Apple Arcade Launches Two New Games and Previews More Games Coming Soon
It has been just over two years since the launch of Apple Arcade, and the subscription-based gaming service's catalog continues to grow. Two new games were released on Apple Arcade today, with an additional two coming soon. The latest additions to Apple Arcade include the classic arcade shooting game Galaga Wars from Bandai Namco and the popular tower defense game Kingdom Rush Frontiers from …
'Crossy Road' Coming Soon to Apple Arcade for iPhone and iPad
The popular endless hopper Crossy Road from Hipster Whale is coming soon to Apple Arcade. A release date has not been announced at this time, but users can sign up to be notified when the game becomes available through the App Store. Similar to Frogger, Crossy Road tasks players with crossing a road bustling with traffic and obstacles, and there are many adorable characters to choose from,…
Classic iPhone Game 'Tiny Wings' Launches on Apple Arcade This Friday
Over a decade after being released on the App Store, the classic hit iPhone game Tiny Wings is coming to Apple Arcade this Friday. Tiny Wings is a casual game that involves tapping and holding the screen to control a bird whose wings are too tiny to fly. The game tasks players with outrunning the sun as they fly a bird across procedurally generated islands. Players must tap on the screen at…
Apple Now Letting Developers Automatically Charge for Some Subscription Price Increases
Apple today informed developers that it is implementing a new subscription feature that will allow customers to be charged automatically when an app's subscription price goes up, which is not the way that subscriptions work at the current time. Right now, customers must explicitly agree to a pricing change when the cost of a subscription increases through an "Agree to New Price" interface….
Apple Arcade Getting New Disney and Nickelodeon Games
Apple Arcade surpassed 200 games available on the service in August, and new titles continue to be added nearly every week. The latest game coming to Apple Arcade is Disney Melee Mania from Mighty Bear Games, which launches this Friday. Disney Melee Mania is a battle arena game in which players battle in five-minute 3v3 matches to secure as many points as possible. There are several classic…
Apple Arcade Surpasses 200 Games
With the launch of three new games this morning, Apple's $4.99 per month Apple Arcade service now offers more than 200 games for iPhone, iPad, and Mac users to play. The milestone was first highlighted by CNET, and it comes alongside the launch of Super Leap Day, Super Stickman Golf 3+, and Monster Hunter Stories+, all of which can be downloaded and played starting today. Apple Arcade…
Popular Stories
Unbox Therapy Shares Hands-On Look at iPhone 14 Pro Max Replica
YouTuber Unbox Therapy has shared a hands-on look at the iPhone 14 Pro Max using what he claims is a one-to-one replica created by third-party case makers with access to detailed schematics and dimensions for Apple's new upcoming flagship smartphone. As with the iPhone 13 Pro lineup, in 2022, we are expecting a 6.1-inch iPhone 14 Pro and a 6.7-inch iPhone 14 Pro Max, but this time the Pro…
Apple Releases macOS Monterey 12.4 With Support for Studio Display Webcam Update
Apple today released macOS Monterey 12.4, the fourth major update to the macOS Monterey operating system that launched in October 2021. macOS Monterey 12.4 comes over two months after the launch of macOS Monterey 12.3, an update that added Universal Control. The ‌‌‌‌‌macOS Monterey‌‌ 12.4 update can be downloaded on all eligible Macs using the Software Update section of System…
Apple Releases iOS 15.5 and iPadOS 15.5 With Wallet and Podcast Updates
Apple today released iOS 15.5 and iPadOS 15.5, the fifth major updates to the iOS and iPadOS 15 operating systems that were initially released in September 2021. iOS and iPadOS 15.5 come a little over two months after the launch of iOS 15.4 and iPadOS 15.4. The iOS 15.5 and iPadOS 15.5 updates can be downloaded for free and the software is available on all eligible devices over-the-air in…
Gurman: iOS 16 to Include New Ways of System Interaction and 'Fresh Apple Apps'
iOS 16 will include new ways of interacting with the system and some "fresh Apple apps," Bloomberg's Mark Gurman has said, offering some more detail on what Apple has in store for the upcoming release of iOS and iPadOS set to be announced in a few weeks at WWDC. In the latest edition of his Power On newsletter, Gurman wrote that while iOS 16 is not likely to introduce a major face-lift to…
Apple Watch Series 8 Rumored to Feature New Design With Flat Display
The Apple Watch Series 8 could feature an all-new design with a flat display, according to the leaker known as "ShrimpApplePro." In his latest video on the YouTube channel Front Page Tech, Jon Prosser highlighted information from ShrimpApplePro that suggests the Apple Watch Series 8 could feature a flat display in what seems to be a design originally rumored for the Apple Watch Series 7. …
WhatsApp to Let Users Leave Group Chats 'Silently' and View Rich Link Previews in Status Updates
WhatsApp is working on a new feature that will allow users to "silently" leave group chats hosted by the messaging platform instead of all members of the group being notified when they do. As it stands, when someone leaves a group chat, WhatsApp announces their exit to the entire group, making the act of leaving very public. It's not possible right now to leave a group quietly, but WhatsApp…
Apple Releases tvOS 15.5 for Apple TV HD and Apple TV 4K
Apple today released tvOS 15.5, the fifth major update to the tvOS operating system that first launched in September 2021. tvOS 15.5 comes more than two months after the release of tvOS 15.4, an update that brought support for captive WiFi networks. tvOS 15.5 can be downloaded over the air on the Apple TV through the Settings app by going to System > Software Update. ‌‌‌‌‌‌Apple…
.